ITINERARY
Day 01| Arrival in Paro, Bhutan – Thimphu (1.5 Hr)
Day 02| Thimphu – Punakha (75 Kms)
Day 03| Punakha – Phobjikha (80 Kms)
Day 04| Phobjikha – Paro (210 Kms)
Day 05| Haa Excursion (145 Kms)
Day 06| Departure
* Itinerary can be customized as per your requirement/duration
* Itinerary is subject to flight and hotel availability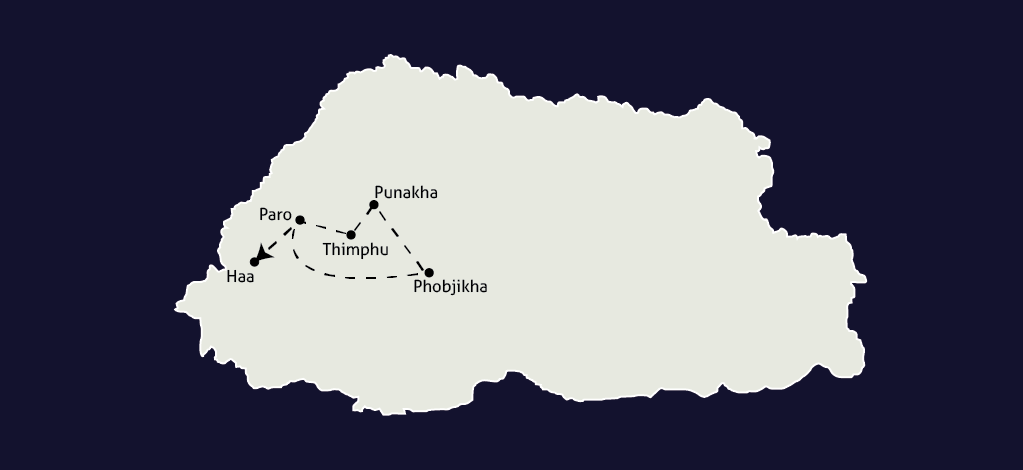 1 Pax – US$ 1,830 | US$ 1,580
2 Pax – US$ 1,780 | US$ 1,530
3 Pax and above – US$ 1,630 | US$ 1,380
Day 01| Arrival in Paro – Thimphu (1.5 Hr)
Early morning flight to Paro, Bhutan (Please check the flight timing). The flight from Delhi/Kathmandu is considered as one of the most scenic flight offering the view of the world's top ten highest peaks. Upon your arrival in Paro airport our guide will be there to welcome you and transfer to Thimphu. After lunch visit some of the cultural sights and get used to the left hand driven roads of Bhutan. Evening collect your bikes and take few rounds around Thimphu.
Overnight: Thimphu| Altitude: 2300m
Day 02| Thimphu – Punakha (75 Kms)
Morning ride to Punakha crossing over Dochula pass (3200 mts). If the weather permits one can enjoy a spectacular breath taking view of the highest mountain peaks of Bhutan at a sight that stretches almost 180 degrees. Take a break and walk around the newly built 108 stupas and start descending to the sub tropical valley of Punakha offering a complete different vegetation. Upon arrival in Punakha, you can visit some of the cultural sights or could go for a short hike to visit some of the holy sites.
Overnight: Punakha| Altitude: 1350m
Day 03| Punakha – Phobjikha (80 Kms)
Morning ride to the remote isolated valley of Phobjikha. After Punakha, the ride is very remote and less driven so you will have the road all for yourself. The ride is very picturesque and worth everytwist and turn. Phobjikha valley is a paradise for the nature lovers and hikers. Upon your arrival, could go for a nice easy hike. Or if you are too tired after the long ride, could relax in the hotel and enjoy the breathtaking view of the valley. Being protected, this valley got electricity recently only. Farm house stay optional.
Overnight: Phobjikha| Altitude: 2900m
Day 04| Phobjikha – Paro (210 Kms)
Morning after breakfast retrace the ride back to Paro. It's quite a long ride but you will enjoy the scenic ride crossing over the passes up and down. Upon arrival in Paro, could relax in the hotel or could visit some cultural sights.
Overnight: Paro| Altitude: 2200m
Day 05| Haa Excursion (145 Kms)
Day excursion to Haa valley. Morning start your ride to the remote valley of Haa. The ride is all uphill till you reach the pass of Chelela (3800 mts), one of the highest motorable road in Bhutan. If the weather permits one can view the most scared and one of the highest mountain peaks in the country Mt. Jomolhari (7314m) overlooking at you. Walk around the pass with prayer flag fluttering and enjoy the fresh air. Continue your ride to the remote valley of Haa. Picnic lunch and evening back to Paro. Hot stone bath available at an additional cost. Farewell dinner with your guide.
Overnight: Paro
Day 06| Departure
Morning transfer (15 mins) to the airport for your departure flight. Your guide will bid you farewell at the airport.
Accentuating the natural beauty are the many elegant, traditional-style houses that dot the valley and surrounding hills. Paro town has been growing rapidly in recent years and there are plenty of restaurants, bakeries and cafes to choose from. One of the distinctive features of Paro town is that …
MORE »
---
Thimphu is the most modern city in Bhutan with an abundance of restaurants, internet cafes, nightclubs and shopping centers, however it still retains its' cultural identity and values amidst the signs of modernization.Thimphu is one of the few towns in Bhutan that have been equipped with ATM…
MORE »
---
On October 13, 2011, the wedding of the King of Bhutan, Jigme Khesar Namgyel Wangchuck, and his fiancé, Jetsun Pema, was held at the Punakha Dzong. Punakha valley has a pleasant climate with warm winters and hot summers. It is located at an average elevation of 1200 meters above sea level. Owin…
MORE »
---
Festivals One of the most notable sites in the district is Phobjikha Valley. This valley is the habitat of rare and endangered Black Necked Cranes that roost there during their annual migrations. The residents of the valley have garnered much acclaim for their conservation efforts to preserve th…
MORE »
---
Haa is the ancestral home of the Queen Grandmother and the illustrious Dorji family. This valley remains one of the least visited areas in the country and retains the air of an unspoiled, primeval forest. The wooded hills of Haa provides an ideal location for hiking and mountain biking. Bikin…
MORE »