Bhutan, once obscured from the rest of the world, has become the hippest destination on every discerning traveler's "must-go" list. Blessed with natural (and unspoiled) beauty, unique culture, astonishing architecture, affable citizens, abundant happiness and some of the best hotels on the globe, Bhutan promises an extraordinary adventure-filled journey to every visitor. For those who seek luxury and exclusivity, our "Live it up in the Clouds" luxury tour is literally that! Stay at lavish international standard hotels, pamper yourself at sensual spas, wine and dine at restaurants and pubs that locals would approve of, shop at quaint boutiques for quality fashion and souvenirs, and visit some of the most amazing cultural sites, this tour lets you discover the true Bhutanese way of life in style and comfort.
ITINERARY
Day 01| Arrival in Paro – Thimphu (1.2 Hr)
Day 02| Thimphu sightseeing
Day 03| Thimphu – Punakha (2.5 Hrs)
Day 04| Punakha sightseeing
Day 05| Punakha – Phobjikha (3 Hrs)
Day 06| Phobjikha – Paro (5.5 Hrs)
Day 07| Paro – Haa – Paro (6 Hrs)
Day 08| Paro sightseeing
Day 09| Departure
* Itinerary can be customized as per your requirement/duration
* Itinerary is subject to flight and hotel availability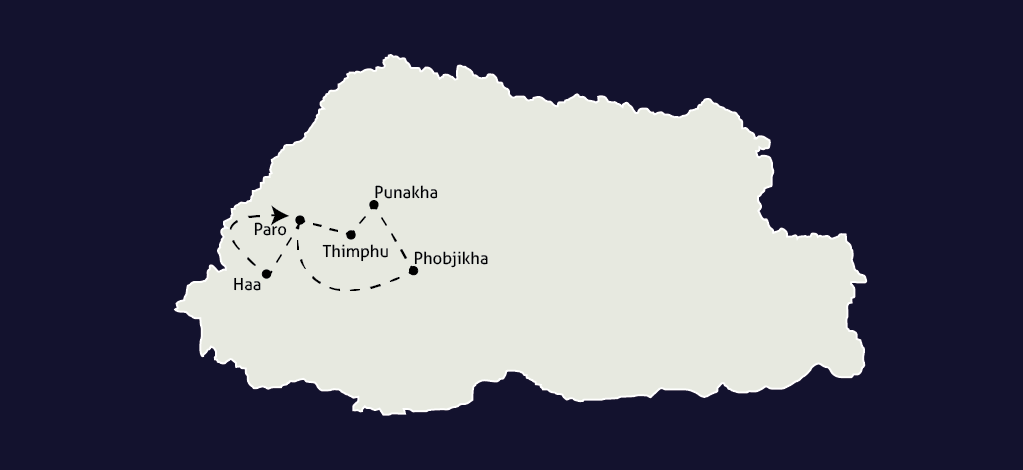 Duration: 09 Days
Places Covered: Thimphu, Punakha/Wangdue, Phobjikha, Paro & Haa
Cost 1 Pax: $ 8490|8890
Cost 2 Pax: $ 5300|5700
Cost 3 Pax & Above: $ 5060|5460
Day 01| Arrival in Paro – Thimphu (1 Hr) Flight to Paro has spectacular views of the Everest, Kanchen Junga and other Himalayan peaks, including the sacred Jumolhari and Jichu Drakey in Bhutan are awesome. On arrival in Paro our guide will receive you and transfer to Thimphu by car/bus. One can wander on your own to stroll Thimphu streets or relax in your hotel Overnight: Taj Tashi | Altitude: 2300m
Day 02| Thimphu sightseeing Morning visit the weekend market (Thursday, Friday, Saturday & Sunday), Handmade paper Mill, School of Arts and crafts where students learn 13 different arts used predominantly in Bhutan, Lunch in town. Drive pass by Memorial Chorten (temple) built in memory of the late 3rd King. Visit Changangkha Lhakhang, the oldest temple in the valley, Enclosure where national animal, Takin are kept and Zilukha Nunnery. Overnight: Taj Tashi
Day 03| Thimphu – Punakha (2 ½ Hrs) Drive through Dochula pass, at 3150m. When the weather permits one can enjoy a spectacular view of the highest mountains of Bhutan at a sight that stretches almost 180 degrees. After a short tea break continue to sub tropical Punakha. Afternoon visit the Souvenir Making Center and the Punakha Dzong (fortress) which houses the most elaborated temple in the country. Overnight: Amankora Resort | Altitude: 1350m
Day 04| Punakha sightseeing Morning hike to the unique temple of Khamsum Yuley Lakhang built by one of the queens. Lunch at Amankora, in the afternoon, you have the option to take a pleasant hike through rice fields to Chimi Lakhang, Tantric Buddhist temple or spend the afternoon at Amankora spa. Dinner at Amankora Overnight: Amankora Resort
Day 05| Punakha – Phobjikha (3 Hrs) A visit to the School of Souvenir Production supported by the Youth Development Found (YDF), Bhutan, before our morning drive to the valley of Phobjikha, the winter home of the endangered black necked crane which visits Bhutan from end of October till February. Afternoon walk around the beautiful valley of Phobjikha where you will get an opportunity to visit the farm houses of the locals and to meet the people as well Overnight: Hotel Dewachen | Altitude: 2900m
Day 06| Phobjikha – Paro (5 ½ Hrs) Check out from the hotel, take an easy valley hike to the Gompa which takes about 2 hrs (Phobjikha Natural Trail) further drive back to Paro. If time permits, in Paro visit the National Museum, the first of its kind which has a collection from natural history to religious paintings. Visit 17 century Paro Dzong (Fortress) on foot and continue walking through the oldest wooden bridge still in use. Evening stroll old Paro town and peep into some local handicrafts stores. One can also venture to try local restaurant for dinner Overnight: Uma Resort | Altitude: 2200m
Day 07| Paro – Haa – Paro (6 Hrs) Early morning drive for Haa valley excursion which opened to international tourists recently. This is good option day for biking downhill from Chelela, pass to Haa/Paro, check with us for extra charge applicable. You will be crossing over one of the highest motorable road in Bhutan. On a clear day one can have the direct face to face view of the Mt. Jumolhari, the highest peak in Bhutan. Picnic lunch in the valley, after visiting the valley drive back to Paro. Overnight: Uma Resort | Altitude: 2200m
Day 08| Paro sightseeing Morning hike to Tiger's Nest, the most revered temple in the country that literally hangs on a granite cliff overlooking the Paro Valley. Taktsang or the tiger's nest temple is the most revered temple to the Buddhist. This magical temple clings to a vertical granite cliff 800m above the valley. Legend has it that in the 8th century, Guru Rimpochey, a tantric master flew here on the back of a tigress and meditated in a cave around which the temple is built. Afternoon on your way back, visit Kichu Lhakhang, one from the 2 oldest Buddhist temples in the country, historic Drukgyal Dzong (Fortress) and Evening at leisure Overnight: Uma Resort
Day 09| Departure Transfer to airport for your departure flight. Our tour staff will bid you farewell at the airport.
Accentuating the natural beauty are the many elegant, traditional-style houses that dot the valley and surrounding hills. Paro town has been growing rapidly in recent years and there are plenty of restaurants, bakeries and cafes to choose from. One of the distinctive features of Paro town is that …
MORE »
---
Thimphu is the most modern city in Bhutan with an abundance of restaurants, internet cafes, nightclubs and shopping centers, however it still retains its' cultural identity and values amidst the signs of modernization.Thimphu is one of the few towns in Bhutan that have been equipped with ATM…
MORE »
---
On October 13, 2011, the wedding of the King of Bhutan, Jigme Khesar Namgyel Wangchuck, and his fiancé, Jetsun Pema, was held at the Punakha Dzong. Punakha valley has a pleasant climate with warm winters and hot summers. It is located at an average elevation of 1200 meters above sea level. Owin…
MORE »
---
Festivals One of the most notable sites in the district is Phobjikha Valley. This valley is the habitat of rare and endangered Black Necked Cranes that roost there during their annual migrations. The residents of the valley have garnered much acclaim for their conservation efforts to preserve th…
MORE »
---
Haa is the ancestral home of the Queen Grandmother and the illustrious Dorji family. This valley remains one of the least visited areas in the country and retains the air of an unspoiled, primeval forest. The wooded hills of Haa provides an ideal location for hiking and mountain biking. Bikin…
MORE »