9 Days Click the Dragon West photo trip is a brief introduction of Bhutan covering only the west part of Bhutan which is relatively a modern Bhutan but offers good opportunity for photo shoot in the School of Arts and Crafts, monastic school and other museums. You will also get to visit few villages. Though it's bit too short for a photo trip but you will have enough memories of Bhutan.
ITINERARY
Day 01| Arrival in Paro – Thimphu (1.2 Hrs)
Day 02|Thimphu Sightseeing
Day 03|Thimphu – Punakha (2.5 Hrs)
Day 04|Punakha – Phobjikha (3 Hrs)
Day 05|Phobjikha – Punakha (3 Hrs)
Day 06|Punakha – Paro (3.5 Hrs)
Day 07|Paro – Haa – Paro (6 Hrs)
Day 08|Paro Sightseeing
Day 09|Departure
* Itinerary can be customized as per your requirement/duration
* Itinerary is subject to flight and hotel availability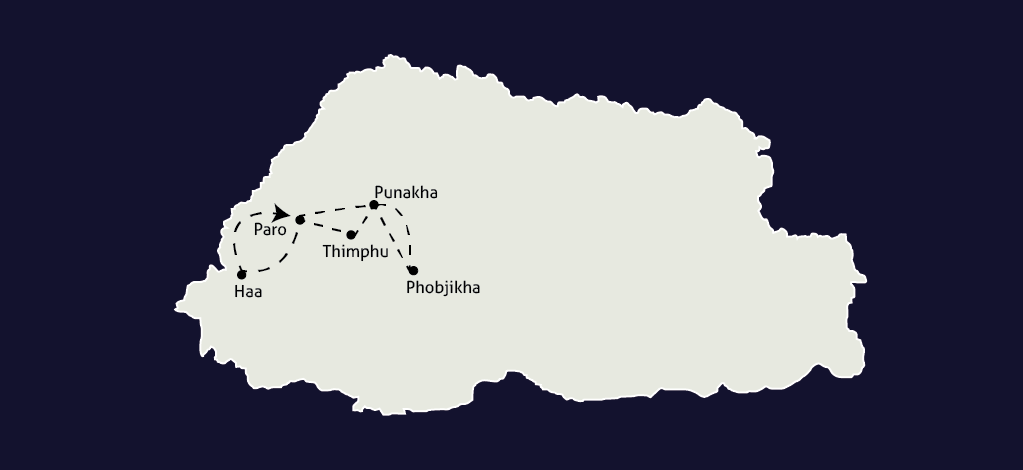 Off Season

High Season

1 Pax
2 pax
3 pax & Above
1 pax
2 pax
3 pax & Above
USD $ 2000
USD $ 1920
USD $ 1680
USD $ 2400
USD $ 2320
USD $ 2080
Please write to us for the detailed itinerary. Itinerary has been withheld to retain the exclusiveness and to protect our unique products.
Accentuating the natural beauty are the many elegant, traditional-style houses that dot the valley and surrounding hills. Paro town has been growing rapidly in recent years and there are plenty of restaurants, bakeries and cafes to choose from. One of the distinctive features of Paro town is that …
MORE »
---
Thimphu is the most modern city in Bhutan with an abundance of restaurants, internet cafes, nightclubs and shopping centers, however it still retains its' cultural identity and values amidst the signs of modernization.Thimphu is one of the few towns in Bhutan that have been equipped with ATM…
MORE »
---
On October 13, 2011, the wedding of the King of Bhutan, Jigme Khesar Namgyel Wangchuck, and his fiancé, Jetsun Pema, was held at the Punakha Dzong. Punakha valley has a pleasant climate with warm winters and hot summers. It is located at an average elevation of 1200 meters above sea level. Owin…
MORE »
---
Festivals One of the most notable sites in the district is Phobjikha Valley. This valley is the habitat of rare and endangered Black Necked Cranes that roost there during their annual migrations. The residents of the valley have garnered much acclaim for their conservation efforts to preserve th…
MORE »
---
Haa is the ancestral home of the Queen Grandmother and the illustrious Dorji family. This valley remains one of the least visited areas in the country and retains the air of an unspoiled, primeval forest. The wooded hills of Haa provides an ideal location for hiking and mountain biking. Bikin…
MORE »
---
Bumthang Dzongkhag consists of four main valleys Ura, Chumey, Tang and Choekhor. Choekhor is the largest of the four mountain valleys and is widely considered as 'Bumthang Valley'. The valleys are broad and gentle carved by the ancient glaciers. The wide and scenic valleys draws a…
MORE »