The Last Shangri-La explores the heartlands of pristine forests and tiny Himalayan Buddhist country across the cities from west to central Bhutan offering best Journeys ever for those who seeks peace, luxury and tailor made holidays in Bhutan. Exploring rural cultural, taking you through remote villages, interacting with the charming farmers, students, kids and many more is what you can expect with the tailor made programs. Culture and traditions of the rural towns and villages peppered across the passes, come home to exquisite suites and divine spa treatments – guaranteed to make this trip of a lifetime.
ITINERARY
Day 01| Arrival in Paro – Thimphu (1.2 Hrs)
Day 02| Thimphu sightseeing
Day 03| Thimphu – Punakha (2.5 Hrs)
Day 04| Punakha Halt
Day 05| Punakha – Trongsa (5 Hrs)
Day 06| Trongsa – Jakar (2.5 Hrs)
Day 07| Jakar sightseeing
Day 08| Jakar sightseeing
Day 09| Jakar – Phobjikha (5.5 Hrs)
Day 10| Phobjikha halt
Day 11| Phobjikha – Paro (5.5 Hrs)
Day 12| Paro sightseeing
Day 13| Departure
* Itinerary can be customized as per your requirement/duration
* Itinerary is subject to flight and hotel availability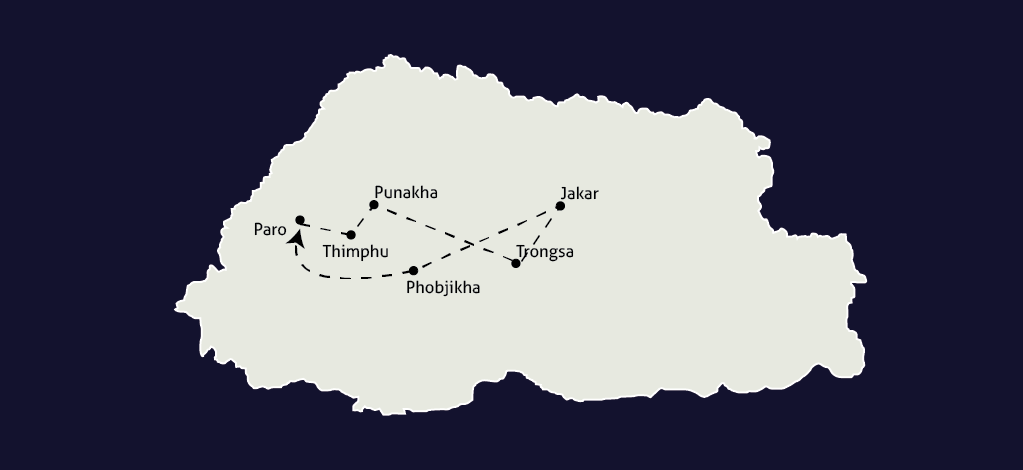 Duration: 13 Days
Places Covered: Thimphu, Punakha/Wangdue, Trongsa, Jakar, Phobjikha & Paro
Cost 1 Pax: 15115|15715
Cost 2 Pax: 9230|9875
Cost 3 Pax & Above: 8915|9515
Day 01| Arrival in Paro – Thimphu (1.2 Hrs)
Flight to Paro has spectacular views of the Everest, Kanchen Junga and other Himalayan peaks, including the sacred Jumolhari and Jichu Drakey in Bhutan are awesome. On arrival in Paro international airport, you will be received by Keys To Bhutan representative and transfer to Thimphu by car/bus. One can wander on your own to stroll Thimphu streets or relax in your hotel
Overnight: Thimphu | Altitude: 23oom
Day 02| Thimphu sightseeing
Morning visit the weekend market (Thursday, Friday, Saturday & Sunday), Handmade paper Mill, School of Arts and crafts where students learn 13 different arts used predominantly in Bhutan, Lunch in town. Drive pass by Memorial Chorten (temple) built in memory of the late 3rd King. Visit Changangkha Lhakhang, the oldest temple in the valley, Enclosure where national animal, Takin are kept and Zilukha Nunnery
Overnight: Thimphu
Day 03| Thimphu – Punakha (2.5 Hrs)
Drive through Dochula pass at 3050m. When the weather permits one can enjoy a spectacular view of the highest mountains of Bhutan at a sight that stretches almost 180 degrees. After a short tea break continue to sub tropical Punakha. Afternoon visit nunnery and walk down to your hotel.
Overnight: Punakha | Altitude: 1350m
Day 04| Punakha Halt
After breakfast, we will visit most beautiful Punakha Dzong (fortress). The dzong showcase the finest examples of arts and architecture of Bhutan. Today's hike to Khamsum Yulay will start from the foot of the Dzong, through old palace of 3rd king of Bhutan. The entire hike will take about 3 hours. Picnic lunch will be served. This is good day for white river rafting in the afternoon or visit to farm house.
Overnight: Punakha
Day 05| Punakha – Trongsa (5 Hrs)
Check out of the hotel and hike to Rinchengang village, one of the most clustered houses built in Bhutan. We get to meet locals, kids and see their farm houses. Quick breaks will be given in between our driver, Pelela pass at 3300m and Chendipji. We will take evening 2 hours hike from Trongsa viewpoint to the Dzong before concluding our day. If time permit visit Trongsa Dzong, else drive to your hotel.
Overnight: Trongsa | Altitude: 2200m
Day 06| Trongsa – Jakar (2.5 Hrs)
Visit Trongsa Dzong and Trongsa Museum before proceeding to Tang, Bumthang. En-route we will stop at weaving center, which is famous in the region. Today's early arrival at Tang will make sense as you will be able to catch the Tang Namkha Lhakhang festival which starts today. Tang is quite remote and festivals are interesting as not so much tourist make it like that of other famous festivals in Bhutan. We will spend a night in a simple guest house which is also a museum of the region.
Overnight: Tang | Altitude: 2800m
Day 07| Jakar sightseeing
Visit Jampay Lakhang, the one of the first 2 Buddhist temples built in the country. This is the home of the naked dance that is still performed annually. Visit Kurjey temple, the site where Bhutan's royals are cremated. Either walk cross the suspension bridge and visit the village of Parar and Tamshing or drive there. End your day with a walk passing by the Swiss farm.
Evening stroll in Jakar town and try some local pancake and noodles.
Overnight: Jakar
Day 08| Jakar sightseeing
Make an excursion drive to the village of Ura. The drive will pass over the highest road pass on your trip at Shertang La at 3573m. On clear weather Bhutan's highest mountain Gangkar Puensum (7540m) can be seen dominating the northern valley. Visit the Ura village and return.
Overnight: Jakar
Day 09| Jakar – Phobjikha (5.5 Hrs)
Retrace and enjoy the drive back to the valley of Black-necked crane. Black-necked crane is one of the rare specials of the birds in the world, which migrates from Tibetan plateau to Bhutan in winters. On arrival at Gangtey visit Gangtey Gompa, the largest and the only monastery of the Nyingmapa sect in western Bhutan. Evening relax in your hotel.
Overnight: Phobjikha | Altitude: 2900m
Day 10| Phobjikha halt
The valley of Phobjikha is full of hikes. Phobjikha Natural Trail take about 2 hours walk through crane feeding areas and gives wonderful opportunity to see close up cranes for winter visitors. Further walk around the village to meet locals, taking pictures give us perfect knowledge about the Bhutanese rural life. There are many such hiking trains in an around Phobjikha valley. Explore the day.
Overnight: Paro | Altitude: 2200m
Day 11| Phobjikha – Paro (5.5 Hrs)
Start early retracing the drive to Paro. In Paro visit the National Museum, the first of its kind which has a collection from natural history to religious paintings. Visit 17 century Paro Dzong (Fortress) on foot and continue walking through the oldest wooden bridge still in use.
Evening stroll old Paro town and peep into some local handicrafts stores. One can also venture to try local restaurant for dinner.
Overnight: Paro | Altitude: 2200m
Day 12| Paro sightseeing
Visit Kichu Lhakhang, one from the 2 oldest temple in the country, historic Drukgyal Dzong (Fortress) and hike to Tiger's Nest, the most revered temple in the country that literally hangs on a granite cliff overlooking the Paro Valley. Evening at leisure
Overnight: Paro
Day 13| Departure
Morning transfer to the airport (15 mins) for your departure flight. Our tour staff will bid you farewell at the airport.
Accentuating the natural beauty are the many elegant, traditional-style houses that dot the valley and surrounding hills. Paro town has been growing rapidly in recent years and there are plenty of restaurants, bakeries and cafes to choose from. One of the distinctive features of Paro town is that …
MORE »
---
Thimphu is the most modern city in Bhutan with an abundance of restaurants, internet cafes, nightclubs and shopping centers, however it still retains its' cultural identity and values amidst the signs of modernization.Thimphu is one of the few towns in Bhutan that have been equipped with ATM…
MORE »
---
On October 13, 2011, the wedding of the King of Bhutan, Jigme Khesar Namgyel Wangchuck, and his fiancé, Jetsun Pema, was held at the Punakha Dzong. Punakha valley has a pleasant climate with warm winters and hot summers. It is located at an average elevation of 1200 meters above sea level. Owin…
MORE »
---
Festivals One of the most notable sites in the district is Phobjikha Valley. This valley is the habitat of rare and endangered Black Necked Cranes that roost there during their annual migrations. The residents of the valley have garnered much acclaim for their conservation efforts to preserve th…
MORE »
---
Haa is the ancestral home of the Queen Grandmother and the illustrious Dorji family. This valley remains one of the least visited areas in the country and retains the air of an unspoiled, primeval forest. The wooded hills of Haa provides an ideal location for hiking and mountain biking. Bikin…
MORE »
---
Bumthang Dzongkhag consists of four main valleys Ura, Chumey, Tang and Choekhor. Choekhor is the largest of the four mountain valleys and is widely considered as 'Bumthang Valley'. The valleys are broad and gentle carved by the ancient glaciers. The wide and scenic valleys draws a…
MORE »